Are you short of space in your fridge but still want to keep your drinks stocked? It's time to get a drinks fridge. It's time to get a beverage fridge. These specially designed appliances store and cool drinks so you can have a cold one whenever you want. HCK is celebrating Chinese New Year with a 50% discount on selected products! But how can you go about deciding on the best drinks fridge? Don't worry. We can help with our drinks cooler fridge buying guide.

The 4 main factors to consider when choosing a beverage fridge
Find details about the type of drinks fridge, storage capacity, control temperature, and must-have features to make your decision a breeze.
Beverage fridge types
Where you intend to put your drink cooler fridge is a very important factor in determining the type you need to buy. The first thing you should determine is whether you want your fridge to be outside or inside.
An outdoor drinks fridge is perfect for storing and cooling drinks on a patio, deck, or back porch but can also be placed near a barbecue, swimming pool, or hot tub. If you intend to keep your fridge outside, you will need a sturdy product.
On the other hand, models intended for indoor use can be freestanding or built-in beverage fridges. Built-in units are designed for places where space is limited and can easily be placed under a countertop or on a kitchen island.
Beverage fridge temperature range
When it comes to proper storage and flavor preservation, give special consideration to the temperature range of your drink cooler fridge. The wider the range on the fridge, the more types of beverages it can accommodate. When shopping for a cooler, keep in mind the optimal serving temperatures for these popular beverage categories.
Beer

:

All beers are served between 35-60 degrees, but a quick rule of thumb is to place dark and strong beers on the warm side and light and pale beers on the cold side.

Red wines

:

Traditionally, red wines were served at room temperature. Houses today are much warmer than they used to be, so this effectively means between 60 and 65 degrees.

White wines:

White wines usually taste better when chilled but not so cold that you can't distinguish the delicate flavors. These should be served between 50 and 60 degrees.

Sparkling wines:

Carbonated drinks are best served at the lowest possible temperature. For champagne and other sparkling wines, 40 degrees is good.
Beverage fridge sizes by capacity
Important features to consider when buying a drinks fridge are size and capacity. The right capacity is determined by your home or workplace size and how many guests you usually entertain at dinner parties and workplace gatherings. 
Small: 46 - 170 liters / 38 - 150 cans
For small to medium-sized homes, a small beverage fridge can hold just over 150 cans. This gives you enough space to keep your family's favorite soft drinks and alcoholic beverages, freeing up more space in the main fridge for food storage.
Medium: 171 - 250 liters / 150 - 240 cans
A beverage fridge with around 200L might be appropriate for a medium to large family. You can store just over 200 cans and beer bottles in this volume range. This also makes it a good choice for families who like to entertain, providing plenty of space for drinks to entertain your guests.
Large: 251 - 330 liters / 250 - 350 cans
This line offers the most spacious capacity, with some beverage fridges capable of storing around 300 cans. A large beverage fridge is a great option for larger families or those who like to store many drinks. You won't run out of drinks at your next big barbecue or dinner party, as this range is designed for those who like to entertain regularly.
Additional beverage fridge features    
Now that you've decided on the essentials for your beverage fridge, it's time to think about special features. These are all the safety, convenience, and style attributes that turn a basic fridge into something truly outstanding. 
Below are some of the most useful features to add to your list.   
Noise levels. Beverage fridges use compressors and fans to cool your drinks, so it is normal for the equipment to make noise when running. If noise is an issue, consider choosing a quieter model. As a rule of thumb, any fridge with a decibel range below 45 decibels (dB) is considered a quiet model.
Security locks. If you intend to keep alcoholic beverages in your drinks fridge, choosing a drink cooler fridge with a locking system may be ideal. This feature is useful for preventing children from accessing alcohol. A lockable beverage center is also handy in shared spaces such as student accommodations or shared offices to prevent drinks from being stolen or misplaced.
Reversible door. A beverage fridge with this feature will have a left or right door hinge. Choosing a model with reversible door hinges will ensure that you can adjust the opening and closing direction of the door when moving or relocating your drinks fridge.
Beverage fridge HCK K168: for all your needs

After browsing through the above, you should have a general idea and a blueprint for buying a drink cooler fridge. In practice, however, you may still struggle to choose the right drinks fridge - after all, there are so many on the market today. That being the case, here we recommend a drink cooler fridge that will satisfy most people's needs: the 24-inch beverage fridge HCK K168. You can get an overview of this product in the following text.
Refrigerator + fridge in one. In addition, the durable SUS 304 construction allows it to be used indoors and outdoors, and the special construction design allows it to be used as a freestanding or built-in under-counter fridge.
Precise temperature control
It utilizes the environmentally friendly R600a refrigerant and offers an effective temperature range from 32°F to 50°F. Its built-in sensors constantly monitor the temperature, helping keep your favorite drink in tip-top condition and ready to serve you when needed.
Your HCK K168 fridge is equipped with 3 removable and fully adjustable shelves, allowing you to store drinks while enjoying your beer. In addition, the configuration of 3 taps delivers 3 different flavors of beer and 3 different possibilities of surprises.
In addition to the above features, the reversible door of the HCK K168 offers you a high degree of ease of use, a highly efficient compressor that reduces your fridge's energy costs to 9 cents per day, and an ultra-low noise level of 45 decibels, so you won't even notice when it's running; we also offer a 1-year factory warranty so you can use it with confidence.
Shop with Confidence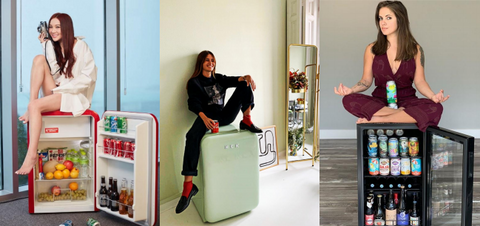 The beverage center is a compact and convenient unit that provides a separate space to store your drinks. We believe the HCK K168 will add a new dimension and role to your home. To browse more beverage fridges, please visit the HCK website to find the perfect beverage cooler to match your home.
Lastly, to celebrate Chinese New Year and thank you for your support, we are now offering a 50% discount on some of our products. Don't miss out!